Hänel Vertical Storage
Innovative Vertical Storage Solutions
Vertical storage systems limit the amount of floor space necessary for warehouse storage by instead using available room height. The Hänel Rotomat®, and Hänel Lean-Lift® are the two vertical storage systems we offer, with each possessing a unique flow to store and unload product.
The Hänel Lean-Lift® system is a goods protector and storage rationalizer all in one, while the Hänel Rotomat® storage carousel is a sliding carriage that moves your goods in a Ferris wheel-like design. Optimize your rooms and warehouses with our functional systems that keep your products organized and your floor space open.
Hänel Rotomat®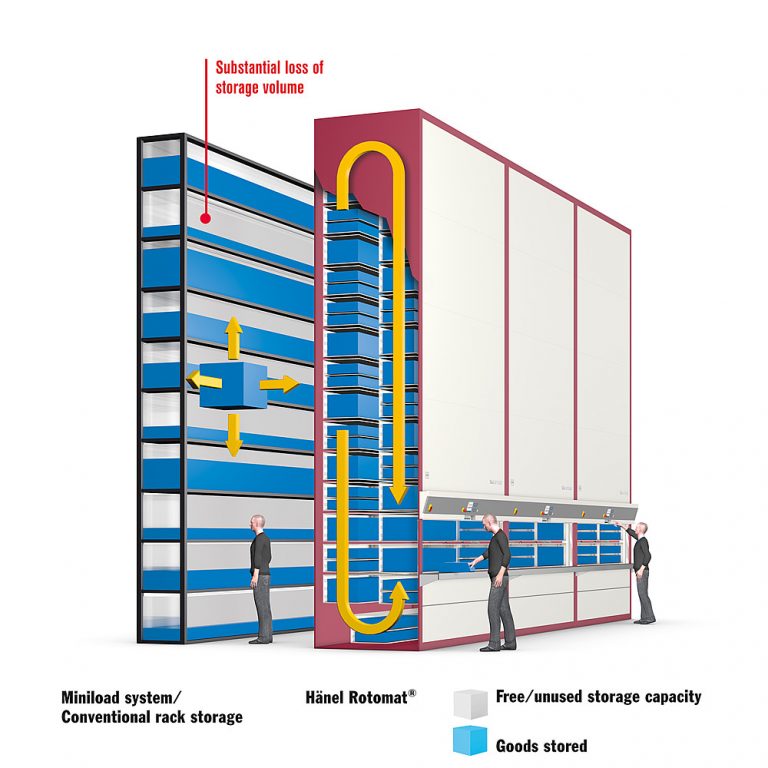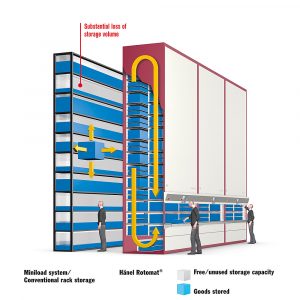 How Does It Work?
The Hänel Rotomat® storage system uses a Ferris wheel design to rotate archives and bring them down to the operator's level. Each Rotomat® consists of a twin-motor design that ensures freedom of movement between each carousel and a four-point sliding carriage. With the Hänel Rotomat®, you'll save time and keep your workplace safer as the archives come right down to the operator.
The Rotomat® consists of a self-supporting steel plate casing similar to those used by the aircraft industry. Our systems are available in environmentally friendly coatings, and for more difficult jobs, Rotomats come in shockproof and impact-resistant enamel finishes. The archives are kept safe using doors that slide smoothly and lock into place. The Rotomat® comes in grey, anthracite, green, blue and Bordeaux. Some models have customizable finishes.
Each Rotomat® can be structurally customized to accommodate higher speeds, heavier loads and controlled atmospheres. For smaller storage solutions, Rotomat® makes drawers and comes with subdividers so you can make the most of your space. You can even purchase a Rotomat® with an antistatic coating and a conductive work counter for the electronics industry.
The Hänel Rotomat® Drive and Control System
Every Hänel Rotomat® is powered by two durable, reliable 400-V three-phase motors for powerful acceleration. The Hänel drive system combines power and a smooth ride that keeps your archives safe while delivering them to you quickly. They brake no matter the load conditions.
Each system is controlled by a powerful Hänel microprocessor that allows the Rotomat® to be hooked up to computer systems.
Keep Your Workplace Safe With the Rotomat®
To attest to its safety, the Hänel Rotomat® has a Swiss SUVA inspection and German GS mark. All Hänel systems are compliant with the DIN EN 15095.
With automated storage, you'll keep your workplace safer since employees won't have to strain their muscles trying to move materials. The Rotomat® will also free up floor space, giving your team more room to move freely.
Though Rotomat® systems are designed to be reliable and failure-free, each Rotomat® has a bypass system that allows you to use a sliding door to access the full system contents in case of malfunction.
Hänel Lean-Lift®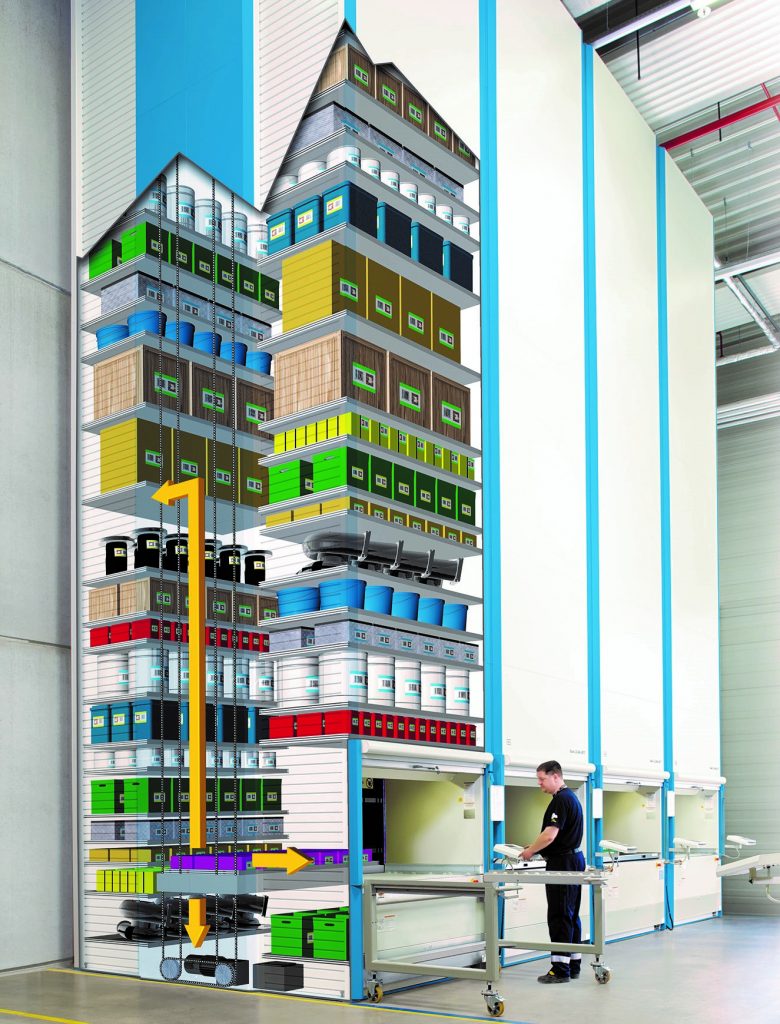 With the Hänel Lean-Lift® storage system, your company can save space by having the storage capability of a high-bay warehouse in a compartment the size of a cabinet. The Hänel Lean-Lift® uses the Hänel Rotomat® principle to bring equipment down to the operator to increase workplace safety and maximize storage capacity.
With its smart compartment system, The Hänel Lean-Lift® protects goods while optimizing your storage system. The Hänel Lean-Lift® is a closed system computer-controlled system with a positioning lift that extracts the needed material down to the operator. Storage shelves are located in front of and behind the extractor system that receives the requested container. The requested goods are then brought down to the retrieval area by the extractor.
The Hänel Lean-Lift® has useful applications in the following industries:
Aircraft
Automotive
Electrical engineering
Mechanical engineering
Medical technology
Pharmaceuticals
ESD versions of the Hänel Lean-Lift® are available for use in the electrical engineering sector and any other industry where electrostatic discharge is a threat to the operation. Each Hänel Lean-Lift® system has a light barrier curtain, height sensor and space-saving pitch for better storage volume utilization than traditional shelving.
Each Lean-Lift® is a stand-alone system that can function independently or with others. By adding more Lean-Lift® machines to the system, you can increase your storage space at any time. You can even combine Lean-Lift® systems so they span several floors. Hänel Lean-Lift® storage systems can also be attached to the outer wall of buildings so you can have the full storage of a Lean-Lift® system while keeping your entire warehouse floor open to maximize workspace.
About Hänel
Hänel is a company with an impressive history and a clear eye for the future. Since the 1950s, Hänel has stood for innovation in material handling. The company was among the first in the world to automate storage systems and utilize vertical storage space. Now, they continuously refine their products to provide you with the most cost-efficient and functional motorized storage systems in the world.
Each of Hänel's products strives for environmental compatibility and is built with the belief that if a job is worth doing, it's worth doing well.
Hänel is one of the world's leading manufacturers of intralogistics machines. They design each of their systems to meet tomorrow's requirements today. Using their vertical systems, you can create up to 60% more storage area in your business.
Contact Arnold Machinery for More Information
To learn more, call your nearest Arnold Machinery Material Handling location or fill out the contact form above.