Warehouse Design Simulation
Allow Us to Show You Your Perfect Warehouse
A well-functioning, productive warehouse requires a seamless blend of human labor, material handling equipment, storage structures and processes to deliver optimal results. A warehouse design simulation eliminates guesswork by enabling you to visualize the layout before constructing and implementing it. Move forward with your project with complete confidence.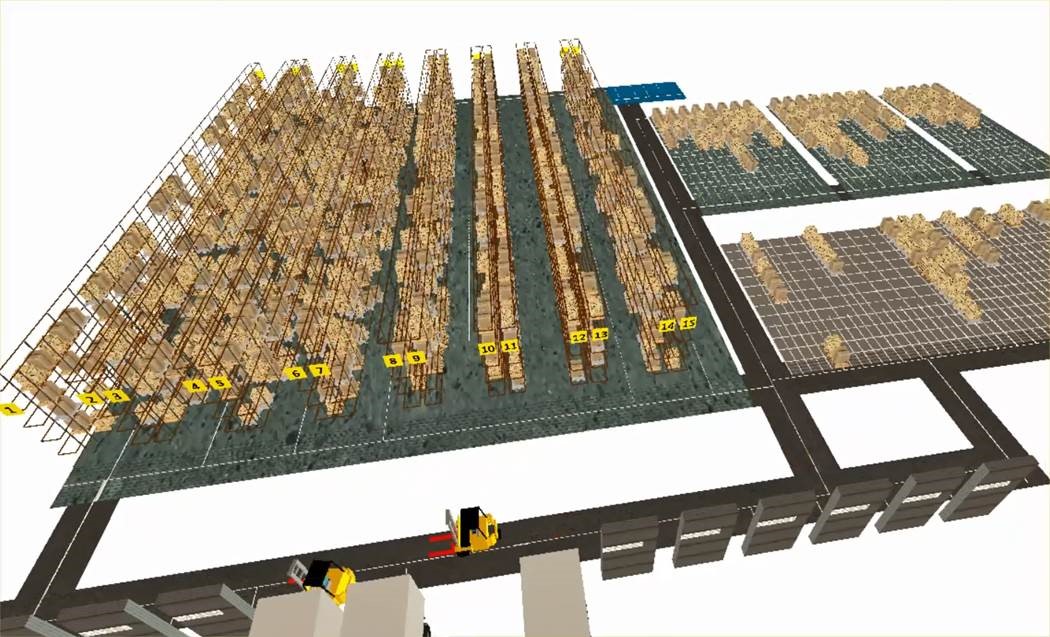 Our Warehouse Design Services
Arnold Machinery Company is a full-service warehouse solutions provider that can perform a custom warehouse layout simulation for your business. We're the material handling division of Arnold Machinery Company, a premier provider of warehouse equipment and services since 1944. Trust us to deliver targeted design services that will increase productivity and efficiency while reducing operating costs.
We utilize state-of-the-art warehouse simulation software that enables you to assess your needs and optimize outcomes in these and other crucial areas:
Equipment: Determine the quantity and type of forklifts and other material handling equipment your warehousing operation will require to meet the demand.
Floor space: With a completed warehouse simulation, we can show you the warehouse layout necessary to increase your company's productivity.
Staffing: You'll know precisely how many workers you'll need to meet your productivity goals while avoiding the often prohibitive costs of overstaffing.
Operating expenses: By identifying ways to increase efficiency, our warehouse planning software can eliminate costs that reduce profitability.
Gate requirements: You'll be able to determine how many and which types of gates you'll need for loading departing trucks and unloading arriving trucks.
Traffic flows: Use the design software to find the most efficient freight patterns in your facility to ensure optimal picking and transporting strategies.
Performance metrics: Identify and implement the appropriate measuring tools to gauge operational performance, such as utilization rates, inventory levels and execution time.
Taking your fleet size, unit type and your business goals into account, we are able to create a true simulation of your specific warehouse. A CAD drawing gives the simulation an understanding of your warehouse's optimal layout.
Then, with the simulation knowing the details of your fleet, it creates a moving visual of what your warehouse looks like on a day-to-day basis. In addition, the simulator also shows changes that could be made to increase warehouse productivity. The final product will inform you of the type and quantity of equipment needed, along with the warehouse layout that will lead to your unique facility's maximum productivity.
The Process of Warehouse Design Simulation
We view our warehouse design services as a collaborative venture. We'll work closely with you throughout the process to ensure we have all the information required to deliver an optimal solution. Our team will encourage your input and will incorporate it during every phase.
The specific process steps include:
Obtain warehouse layout (In either DWG or PDF format), fleet size and type, product information and flow, and the end goal(s) from the customer
Build the warehouse simulation based on the shared information provided by the customer
Provide the customer with data generated from the warehouse simulator
Once you've received and reviewed your custom warehouse design layout, we'll meet with you to discuss the results. You can suggest changes or improvements, and we'll be happy to incorporate them into the design. You can move forward knowing that your simulation will accurately replicate your real-world warehouse environment.
Warehouse Simulation Benefits
Our simulation services offer several advantages, including:
Reducing the risk when creating a warehouse layout
Helping to eliminate costly "do-overs" and delays
Making it faster and easier to adapt to a new warehouse operating process
Ensuring you optimize every square foot of floor space
Why Choose Arnold Machinery Company?
Besides our unparalleled warehouse design simulation expertise, we provide exceptional service throughout the process. Our unique Silver Service® guarantee means that we'll do everything ethically possible to ensure your total satisfaction. We won't stop until you're happy with the results.
Contact Your Nearest Branch to Learn More
Could your business benefit from warehouse simulation? Get more information about the advantages of our design services by contacting the Arnold Machinery Material Handling branch in your area today. We'll explain our process in more detail and provide a free, no-obligation quote. We also invite you to visit the Experience Center in person or virtually to see our warehousing solutions on display and talk to our team of consultants!