Warehouse Solutions
Racking, Shelving, and Much More
Whether you're a startup company or a large corporation operating from multiple locations, your entire team can benefit from optimized warehouse processes. Having the right storage system, material handling equipment and warehouse layout design can make all the difference in your workflow.
Partnering with an experienced warehouse solution provider can help you streamline organization, boost efficiency, reduce worker burnout and achieve any other business goals you might have. At Arnold Machinery Company, we offer a variety of warehouse solutions to simplify everyday processes like storage, material handling, loading and unloading.
We can help you select and implement the ideal solution based on your floor plan, building height, products and materials, budget, and other considerations. Explore our different warehousing solutions and their features in this complete guide.
What Is Warehousing?
Warehousing is the process of storing inventory in a warehouse or distribution center. Products remain in storage until they're ready to be sold or distributed.
Warehouse teams are responsible for storing, organizing and protecting goods to maintain their condition and prevent them from getting lost or damaged. In order to keep operations running smoothly, they must be able to retrieve the following information:
Each item's location
When each item arrived
How long each item has been there
Each item's quantity
As you can imagine, manually tracking this data can be extremely challenging, especially when you consider the hundreds or thousands of items stored in warehouses daily. That's why warehouse crews often implement automated planning and tracking solutions. They can record and retrieve important data from a convenient interface anywhere and anytime.
Furthermore, every warehousing process — including receiving, storage, picking, packaging and shipping — can benefit from advanced storage solutions and material handling equipment. Innovations like forklifts, conveyor belts and pallet racks make it easy for warehouse employees to pick, load and unload items as needed.
Warehouse Storage Solutions
Various storage solutions can improve warehousing logistics, speed, efficiency and productivity. They make it easy to organize, locate, pick and store different products. You can choose a storage system based on your facility's layout and the types of materials you handle.
Here are some preferred warehouse solutions for storing items.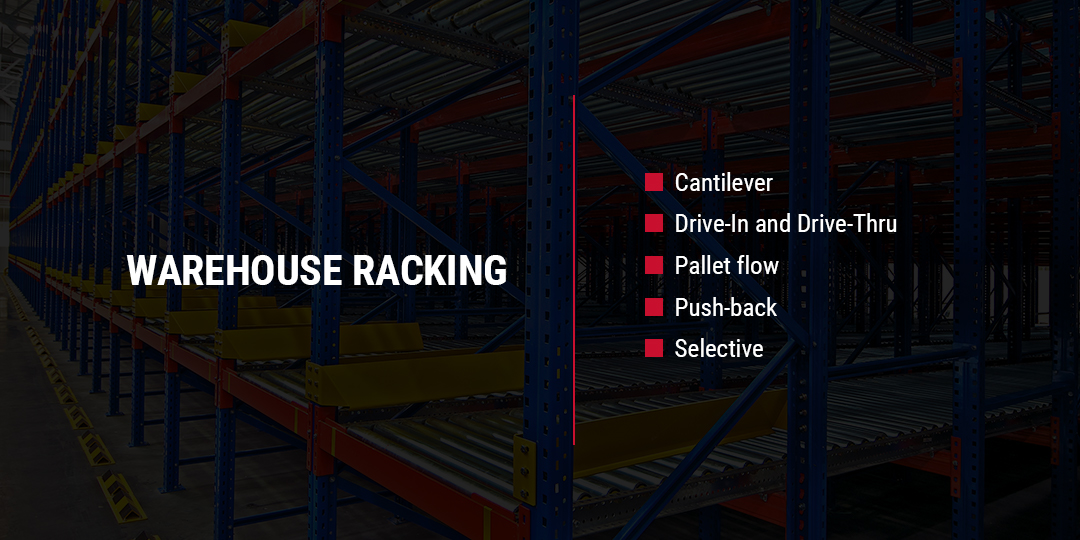 1. Warehouse Pallet Racking
A pallet rack is a warehouse shelving solution that stores materials on pallets. The sturdy pallet shelves are laid out in horizontal rows on vertical levels. Warehouse pallet racking makes it simple to pick and put away inventory using a forklift. It also optimizes vertical space, increasing storage capacity while freeing up valuable floor space.
Warehouse racking comes in various styles, configurations and storage capacities. A knowledgeable warehouse racking storage equipment supplier can help you find a solution for your facility's needs and layout.
Some different types of pallet racking systems are:
2. Warehouse Shelving
In addition to pallet racking, there are multiple warehouse shelving solutions, including:
Modular drawers: This system contains shelves with drawers of multi-compartment cabinets. Drawer sizes are adjustable to fit different product lengths, though large materials typically don't fit. Modular drawers are generally used for small part storage, compartment storage and storing products of various shapes and sizes.
Rivet-style shelving: This system is riveted together with shelves made from wire mesh or particle board. It has light to medium capacity, making it ideal for parts, automotive products and archive storage.
Steel clip shelving: This boltless metal system contains shelves attached to posts with clips, allowing you to open and close the shelves as needed. Steel clip shelving is typically used for automotive equipment, parts and bin storage and mezzanine-supported shelves.
Cantilever: A cantilever system has a solid base, vertical support beams and straight arms. You can adjust the arms to different heights, allowing you to store various product sizes and amounts. Cantilever racking is especially helpful for storing long, bulky or irregularly shaped items like pipes, tubes and lumber.
3. Hänel Vertical Storage
Hänel vertical storage reduces the floor space required for storage by leveraging available room height. Two Hänel vertical storage system options are:
Hänel Rotomat®: Using a twin-motor Ferris wheel design, this system rotates archives and brings them down to the user's level, saving time and improving safety. You can customize each Rotomat® to manage heavier loads, higher speeds and controlled atmospheres. Rotomat® also makes drawers with subdividers for smaller storage applications.
Hänel Lean-Lift®: This computer-controlled system has a positioning lift that extracts the product down to the user, optimizing storage capacity and warehouse safety. The extractor system has front and back storage shelves. A Lean-Lift® can work independently or with others. You can increase storage capacity by adding more Lean-Lift® machines to the system, and even combine them to span several floors. Moreover, you can attach these systems to outer building walls to keep your entire warehouse floor open.
4. Warehouse Mezzanines
A mezzanine is an intermediate building level between the floor and ceiling. Typically equipped with stairs, it's partially open to the floor below and doesn't usually extend over the whole floor space, only occupying a portion of the facility.
Mezzanines can be customized to accommodate different spans, heights, dimensions, railing options and decking materials. A mezzanine system can increase storage capacity and clear up your main floor space. Making the most of unused vertical building space allows you to reduce clutter and create a more organized facility overall.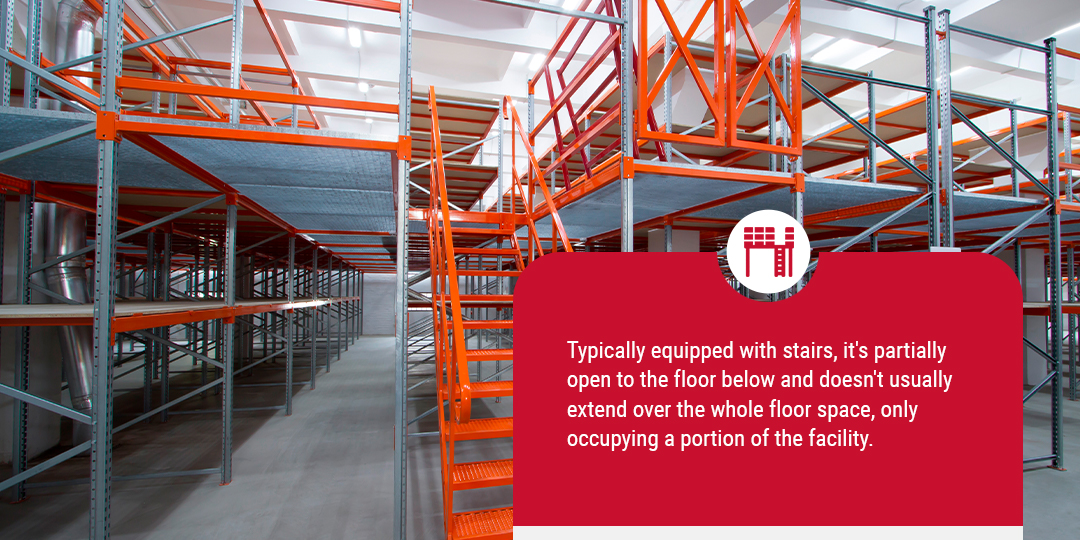 Warehousing Material Handling Equipment Solutions
Material handling equipment optimizes the movement, storage and protection of goods and materials. It can improve efficiency and operations, reduce manual labor and minimize the risk of accidents and product damage.
There are many material handling solutions, each with unique features and benefits to accommodate different workplace applications. Browse the different material handling equipment types below.
1. Conveyor Belt Systems
A conveyor belt system can transport items between different points with ease and care, maximizing
warehouse speed and efficiency. Conveyor belts come in various styles to support different operational needs. Some different types include:
Cleated belt conveyors: These systems have protruding cleats that create sections. The sections help secure small, loose materials during transport, especially during slopes and dips. The cleats also help separate materials to streamline sorting. They come in various heights and shapes to accommodate different products.
Flat bed conveyors: A flat bed conveyor system has several pulleys that move a continuous flat belt, transporting items from one end to another with minimal effort. They're incredibly versatile and can manage various materials, making them a common warehouse choice.
Modular belt conveyors: A modular belt conveyor system has interlocked components that form a single loop. It can move straight, vertically, horizontally or around corners. You can individually remove and repair these hard plastic pieces rather than replace a whole belt section. Modular belt conveyors are also easier to clean, making maintenance and repair a breeze.
Roller bed conveyors: Roller bed conveyor systems are ideal for assembly lines, sorting, inspecting and packaging applications. The conveyor's surface has a specific roller depending on the type of material you need to transport. It's important to consider product weight, size and desired transport speed when choosing a roller conveyor. Our experienced suppliers can help you select a roller bed conveyor based on your unique material handling needs.
2. Docking Equipment
Docking equipment facilitates material loading and unloading from trucks to buildings, making docking areas safer and more efficient. Some potential docking equipment solutions include:
Aluminum dock plates: Aluminum dock plates are a cost-effective solution for bridging the gap between trailers and docks. While they aren't intended for forklift use or below-dock loading, they're ideal for medium-volume loading applications using dollies, pallet jacks and hand trucks. Bolt-on steel legs help secure the dock plate during use. Aluminum dock plates come with hand holes for lifting, but we can also add handles.
Spring-loaded dock plates: Spring-loaded dock plates are ideal for applications involving dollies and hand trucks. They're often used in beverage, bakery and snack distribution industries. These plates are vertically stored and easy to activate by hand or foot.
Steel dock boards: Steel dock boards are ideal for forklift use and facilitating dock-to-truck product transport. A fully welded design provides safe freight loading and unloading.
Rail boards: A rail board can provide an easier transition from a dock to a railcar, enabling safe shipment loading and unloading. You can customize them to meet unique dock site specifications, accommodating any railcar. A sturdy steel construction, locking rings and lifting loops make it simple to place and secure the rail board before driving a forklift across it.
3. Vertical Material and Scissor Warehouse Lifts
Warehouse vertical material lifts allow you to move heavy equipment between high and low facility points. Two types of vertical warehouse lifts include:
Material lifts: Essentially, a material lift is an elevator that moves lift trucks, machinery, pallets and other heavy warehouse products from one floor to another. Warehouse teams often use them for pick stations and multi-level conveyors.
Scissor lifts: While a scissor lift doesn't travel between floors like a material lift, it can reach high warehouse points that aren't accessible otherwise. This motorized lift can raise heavy pieces of equipment to reach high elevations. Warehouse scissor lifts come in numerous styles, including dock lifts, table scissor lifts and scissor lift bridges. Our warehousing solution specialists can help you select a scissor lift that best meets your facility's needs.
Warehouse Planning
Warehouses buzz with constant activity, from receiving items to loading packaged products onto delivery trucks. With many critical tasks to fulfill each day, a convenient planning solution to oversee different processes and materials is more than ideal.
Warehouse planning solutions can help:
Organize products, processes and operations.
Track and locate items quickly.
Minimize costly setbacks and downtime.
Prevent workers from feeling overwhelmed.
Improve speed, efficiency and productivity.
Below are some warehouse planning solutions that can enhance your operations.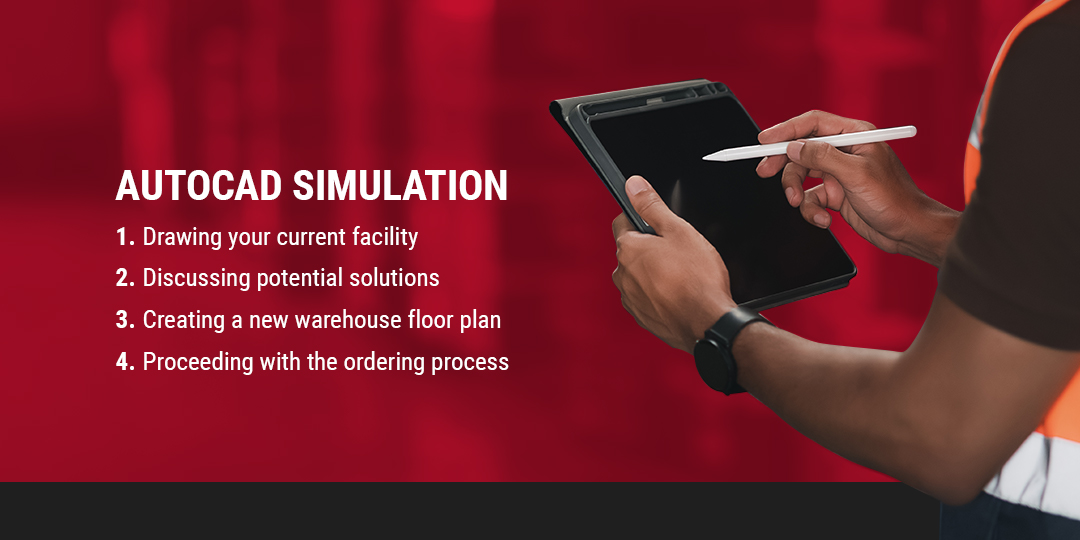 1. AutoCAD Simulation
AutoCAD is a computer-aided design (CAD) software that can generate detailed 2D and 3D drawings of any object or space. A programmer can use AutoCAD to draw up precise warehousing plans, using the facility's unique specifications to visualize an accurate floor plan.
Engineers, construction professionals, architects and other experts can use this software to visualize current layouts and determine possible optimization solutions. If you want to maximize your warehouse operations, our AutoCAD specialists can use drawing plans to align with your business goals and create the best possible layout.
Our free AutoCAD services can offer you detailed information to enhance your space. The basic process is as follows:
Drawing your current facility: Our skilled engineers can use your building's specs to produce a 2D or 3D image of your current layout. We'll use these drawings to analyze the benefits and bottlenecks of your existing workflow.
Discussing potential solutions: With your business goals in mind, our team will develop possible material storage solutions to improve efficiency. We'll work with you to determine the best warehouse layout options based on your needs.
Creating a new warehouse floor plan: By comparing your warehouse's different 2D or 3D renderings, our team will help you weigh the benefits of each potential design. That way, you can choose the best option for your company's operations.
Proceeding with the ordering process: Once you've carefully considered your options and chosen the best possible warehouse layout, we can supply you with the proper material handling tools and equipment to make your vision a reality. Our experienced in-class associates can guide you through the ordering process.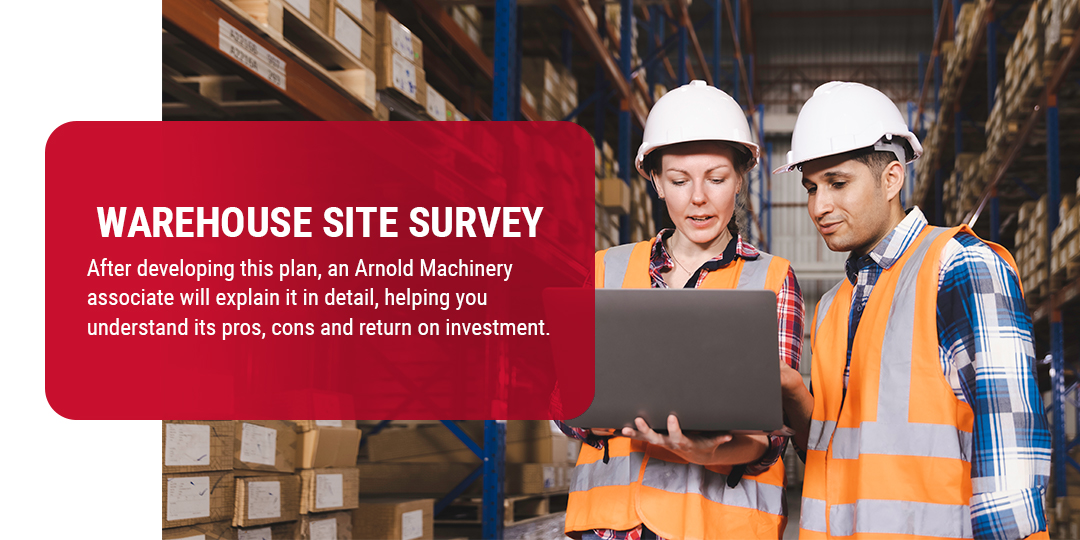 2. Warehouse Site Survey
With our Customer Site Survey services, we'll send one of our trusted associates to your business. They can use their professional knowledge and insights to help you determine your unique forklift or warehousing needs. They'll then work with you to create a plan to optimize performance, considering factors like your timeline and budget.
After developing this plan, an Arnold Machinery Company associate will explain it in detail, helping you understand its pros, cons and return on investment. Maximizing your warehouse workflow starts with realizing your needs — let Arnold Machinery Company help you with this critical step.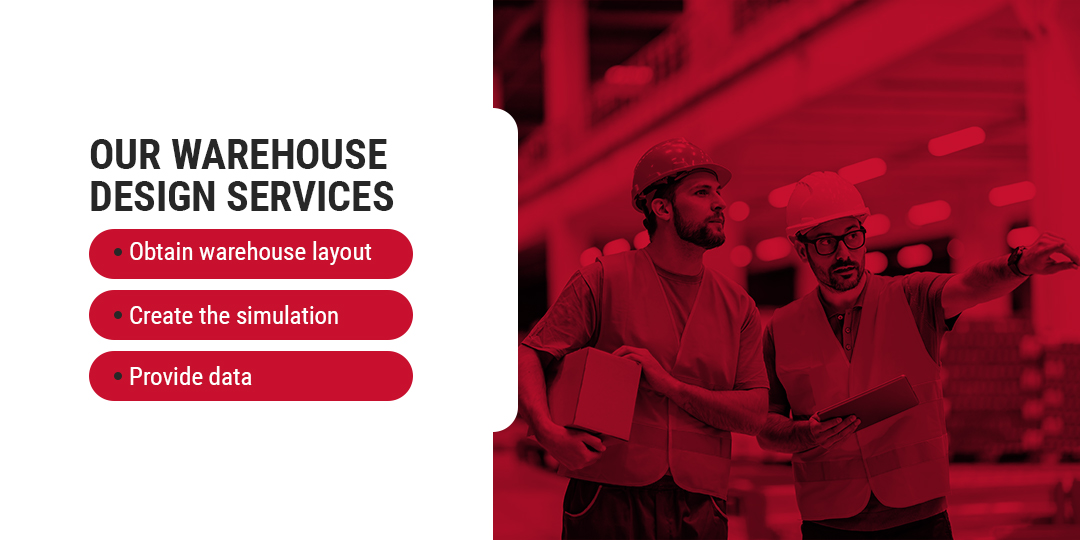 3. Our Warehouse Design Services
We can develop an accurate simulation of your warehouse based on your unit type, fleet size, business goals and other factors. An AutoCAD drawing gives the simulation an idea of a suitable facility layout. Because the simulation knows the unique details of your fleet, it can produce a moving visual of how your warehouse operates each day.
Furthermore, the simulation can display specific layout and equipment changes you can make to enhance workplace productivity. The final product will show you the required type and quantity of equipment. It also displays the proper warehouse layout to maximize productivity.
Our warehouse simulation planning process includes the following steps:
Obtain warehouse layout: The first step is obtaining your warehouse layout. You can provide this to us in PDF or DWG format. The layout should include details like product information and flow, fleet type and size and the business goals you wish to achieve from an updated layout.
Create the simulation: Next, our team will build the warehouse design simulation based on the information you share with us.
Provide data: We'll provide you with the information generated by the warehouse simulator, discussing potential changes to make to your facility.
Trust Arnold Machinery Company as Your Warehouse Solutions Company
At Arnold Machinery Company, we train every associate to follow three primary character traits — integrity, discipline and empathy. Part of how we demonstrate these values is through our Silver Service® guarantee.
Silver Service® is our commitment to giving clients the best heavy equipment service possible. That means doing everything we can to ensure you're completely satisfied with our products and services, given that all actions are ethical.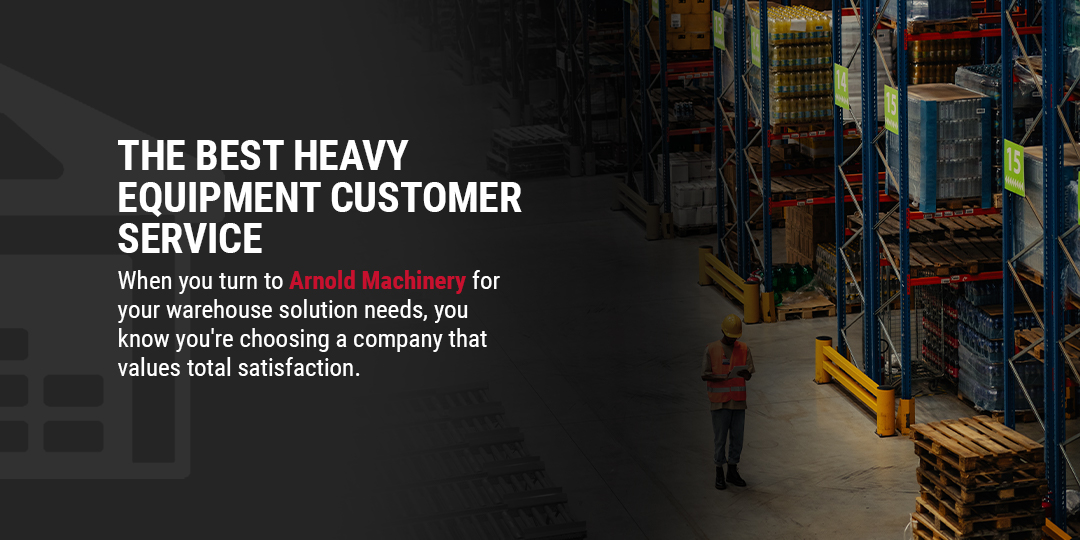 The Best Heavy Equipment Customer Service
Originally developed by Al Richer in 1986, the Silver Service® policy remains the best customer service philosophy across many industries, including material handling, construction, mining and others. It doesn't only extend to our customers — we also strive to provide Silver Service® to our vendors and each other to create lifelong partnerships.
We weave this policy into our company culture and view it as a way of life. Every Arnold Machinery Company associate, including field techs, part experts, sales representatives and upper management, is responsible for upholding the Silver Service® guarantee for every interaction.
When you turn to Arnold Machinery Company for your warehouse solution needs, you know you're choosing a company that values total satisfaction. We go above and beyond to meet and exceed every client's expectations. If you ever feel like we haven't fully met your warehouse optimization needs, reach out to our team right away. We'll do whatever it takes to make it right — and that's a guarantee.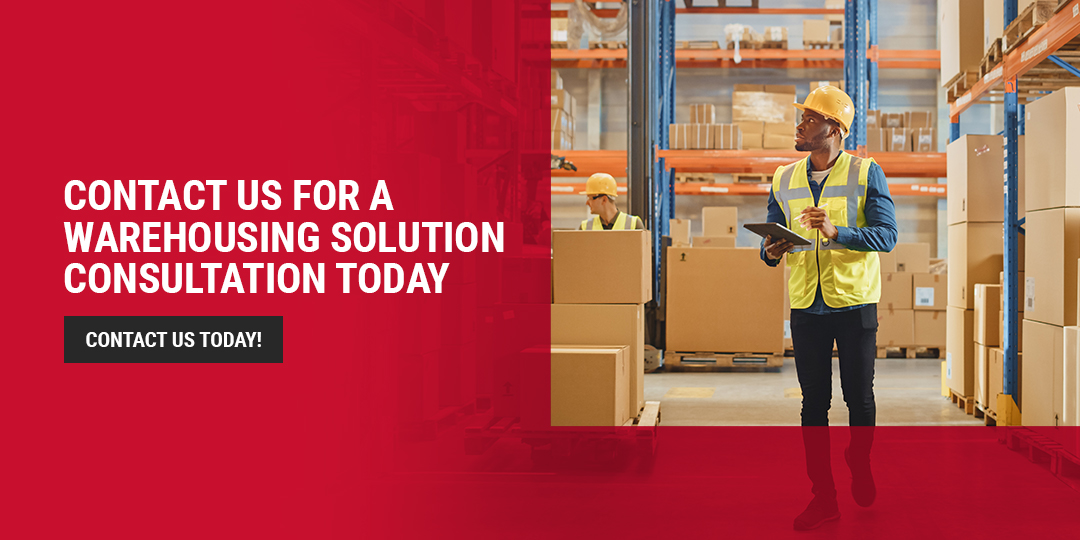 Contact Us for a Warehousing Solution Consultation Today
From space optimization to consistent material flow, there are many aspects to consider when improving warehouse performance and operations. Whether you need storage solutions, material handling equipment or warehouse design services, our team is ready to meet your needs and help you achieve your business goals.
We understand the importance of facility optimization, organized storage and material flow. We offer an extensive inventory of products and services to help clients fulfill these objectives. Additionally, our Silver Service® policy ensures you'll receive the highest-quality customer service and utmost satisfaction.
Improve your warehousing logistics with innovative solutions from Arnold Machinery Company. If you're interested in a free on-site consultation, fill out our contact form above to get in touch with one of our specialists about flexible warehouse solutions. We also invite you to visit our Experience Center in person or virtually to see our warehousing solutions on display!