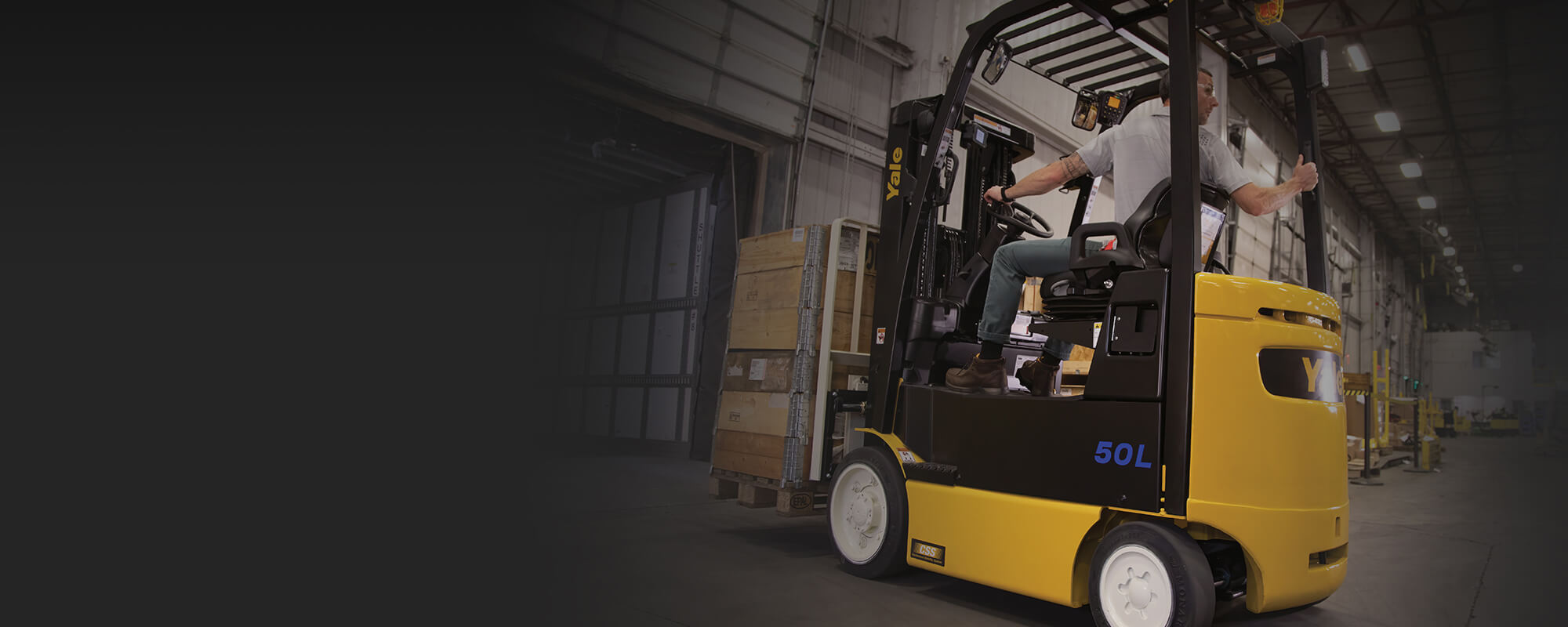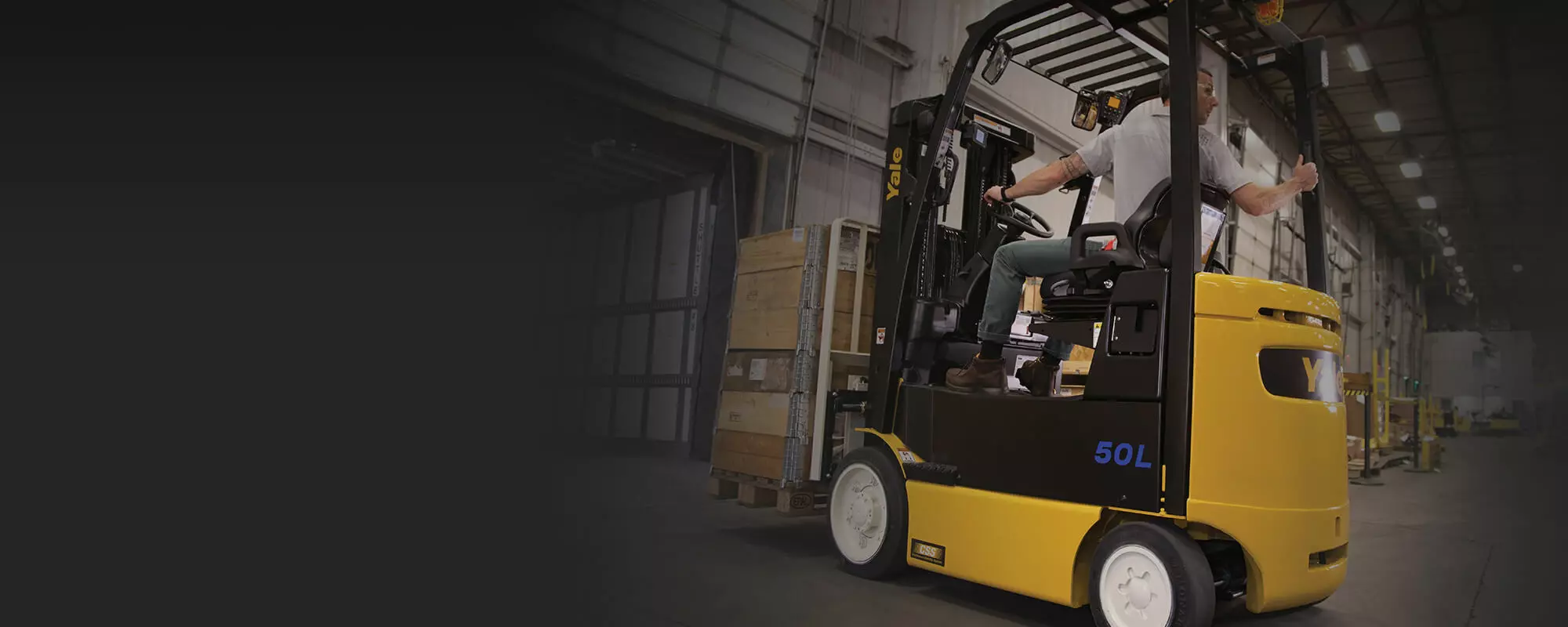 The Best Material Handling Customer Service
Silver Service® is what makes Arnold Machinery Company the best in heavy equipment customer service. The competitors say they take care of their customers, but we actually do it. The competitors claim satisfaction — we guarantee it. No fine print, no exceptions. No sale is final. You won't believe it until you experience it. As a customer, you are not alone in this. You have the guarantee from every single one of our associates that Customer Satisfaction Is Our Only Policy®.
Clearance on New Lithium Powered Jacks
We are running special reduced pricing on new Yale MPS030UX lithium pallet jacks! They are available and in-stock at all of our branches. For pricing and more info, call 888-214-1847, or click the link here to submit a Contact Us form.
Warehouse Solutions
Arnold Machinery is an experienced warehouse company. We understand the need for storage, space optimization and material flow, and we offer various products and services to provide these to our clients. Click the link to view our full list of warehouse solutions.
Your Complete Warehouse Solutions Company and Material Handling Equipment Supplier
At Arnold Machinery Company Material Handling, we make it easy to get the equipment, service and support you need quickly with 14 locations across six states. We are your home for everything you need to optimize your warehouse operations and keep them running at peak efficiency.
Material Handling Equipment Solutions
If you need to move it, we have equipment capable of completing the job quickly and safely. We are an authorized Hyster® and Yale® forklift dealer and distributor of other top brands, including Combilift, Drexel, Navigator and BALYO. You can trust our team to pair you with the right lift truck, container handler, forklift or other machinery that solves all your needs.
We are your complete material handling equipment supplier with options to meet any budget:
New equipment: We have loads of new equipment suited for use in warehouses of any size and layout, including indoor and outdoor facilities with narrow aisles and tall shelving. Options include forklifts, order pickers, container handlers, pallet trucks and more.
Used equipment: Our used equipment inventory hosts a frequently updated selection of lift trucks, forklifts and other material handling equipment. Before any of these machines hit the lot, they get a thorough inspection and service from our in-house team.
Rental equipment: Whether you need something for the short-term or need to boost your capabilities for the whole season, we have you taken care of. We have an extensive selection of low-hour rentals backed by our full support to keep you moving.
Warehouse Solutions
If you want to make your facility safer, more productive and more user-friendly, we have the right warehouse solutions for the task. We carry multiple warehouse racking types, including selective, cantilever, drive-in/drive-thru, push back and pallet flow.
As your total warehouse solutions company, we also have all the other products, equipment and tools you need to improve the way you handle, store and move materials. Talk to your local representative about new dock equipment, conveyors, vertical lifts and more.
Support Services
When you partner with Arnold Machinery Material Handling, you gain the advantage of an equipment solution and service provider committed to your complete satisfaction. We have multiple professional support services available to help you get the most from your equipment and space.
Our team delivers solutions that include:
The Character Traits that Separate Us From the Rest
1
---
Integrity
Integrity means you act with sincerity, honesty, and candor. Having integrity means you return phone calls promptly. If you say you are going to do something on Tuesday, you do it on Tuesday, or you call your customer in advance and tell them why you can't.
2
---
Discipline
Discipline means you must always exercise self-control and self-restraint. Discipline means that you gather accurate data about your business, you review this information in a timely manner, and you use it to guide your decision making.
3
---
Empathy
It is the capacity to experience another person's feelings or ideas. In business, this means that you must always put yourself in the position of the customer. In order to structure a deal that satisfies the customer, you must always take the time to truly understand their needs and concerns.
Contact the Warehousing Experts
Take your warehouse operations to the next level. Arnold Machinery Company Material Handling is the region's most established forklift dealer. We have the experience to help you find what you need fast, and the dedication to ensure you always get the best value.
Visit your nearest Arnold Machinery Company Material Handling location today. You can also reach us at 888-214-1847, or connect with our team using our contact form.
Survey Testimonial - David Mathias
Arnold Machinery goes above what is expected and always follows through and it shows in the service and customer service.
— David Mathias, , CBRE/Amazon
Survey Testimonial - Brian Herron
Kevin Briles has been very helpful to my company. Hats off to him for going above and beyond to help keep our equipment running well.
— Brian Herron, , High Country Beverage-Montrose
Survey Testimonial - David Willard
Ray is outstanding and amazing! I always get a detailed interaction about the state of our equipment and preventative measures we should take to get the most use out of our lifts .
— David Willard, , L&W Supply
Survey Testimonial - Tony Witt
Brett Pohl was great to work with and I'm very glad we gave you a chance to earn our business. You have a much more honest and customer centric business than some of your competition, which is why we decided to go with Arnold Machinery.
— Tony Witt, , Air Squared Manufacturing
Survey Testimonial - Colten Ballantyne
Arnold Machinery has been a great company to work with, always willing to help me out when needed. Service techs that come out when needed are great knowledgeable. Parts guys are great to work with as well.
— Colten Ballantyne, , Westrock
The Site Will Be Seen Differently as Internet Explorer Is No Longer Supported. To See the Site as Intended View In A Different Browser.
The Site Will Be Seen Differently as Internet Explorer Is No Longer Supported. To See the Site as Intended View In A Different Browser.