Allow us to help keep you up and running with unmatched dedication and timeliness.
We understand an equipment issue can slow your day-to-day operations, or even completely bring them to a halt. With our 24/7 service, we can help avoid potential downtime, and we can also quickly limit downtime when a repair is necessary. The service department at Arnold Machinery Company is comprised of 160+ technicians to provide superior performance, fairness, and honesty, which is always backed by our Silver Service® guarantee.
Mobile Forklift Services and Repairs
If your forklift goes down, you can count on us for a rapid response to get you back online at any time of the day, week or year. At Arnold Machinery Company Material Handling, we have an inventory of over $4 million in on-hand parts. We also maintain a fleet of service vehicles equipped with all the tools and supplies our technicians need to get the job done right so you can get back to work.
Our mobile forklift service and repair team includes technicians who hold Master and Elite certifications from Hyster® and Yale®. They and the rest of our service team have the training and skill to work on all the brands we carry — and all other lift truck brands, whether we carry the product line or not.
Forklift Repair Services
Whether you have a planned repair coming up, need a part replacement or have an unexpected emergency that is cutting into your bottom line, our team has you covered. The service technicians at your local Arnold Machinery Company Material Handling location can take care of all the forklift repairs and replacement parts your fleet needs to get the most uptime and highest productivity, including:
Starting issues: If your diesel, electric, LPG or other forklift has trouble starting, we will trace the issue to get your machine back up and running.
Lifting issues: Common forklift mast repairs we perform include fixing forks that are stuck, making noises, moving too slow or operating too fast.
Steering issues: Forklifts that won't steer can't stack. If yours has trouble steering, increased resistance or other issues moving around, let us know.
If we see anything else during our service that requires your attention, we will let you know so you can limit your risks and avoid undergoing another emergency forklift repair down the line.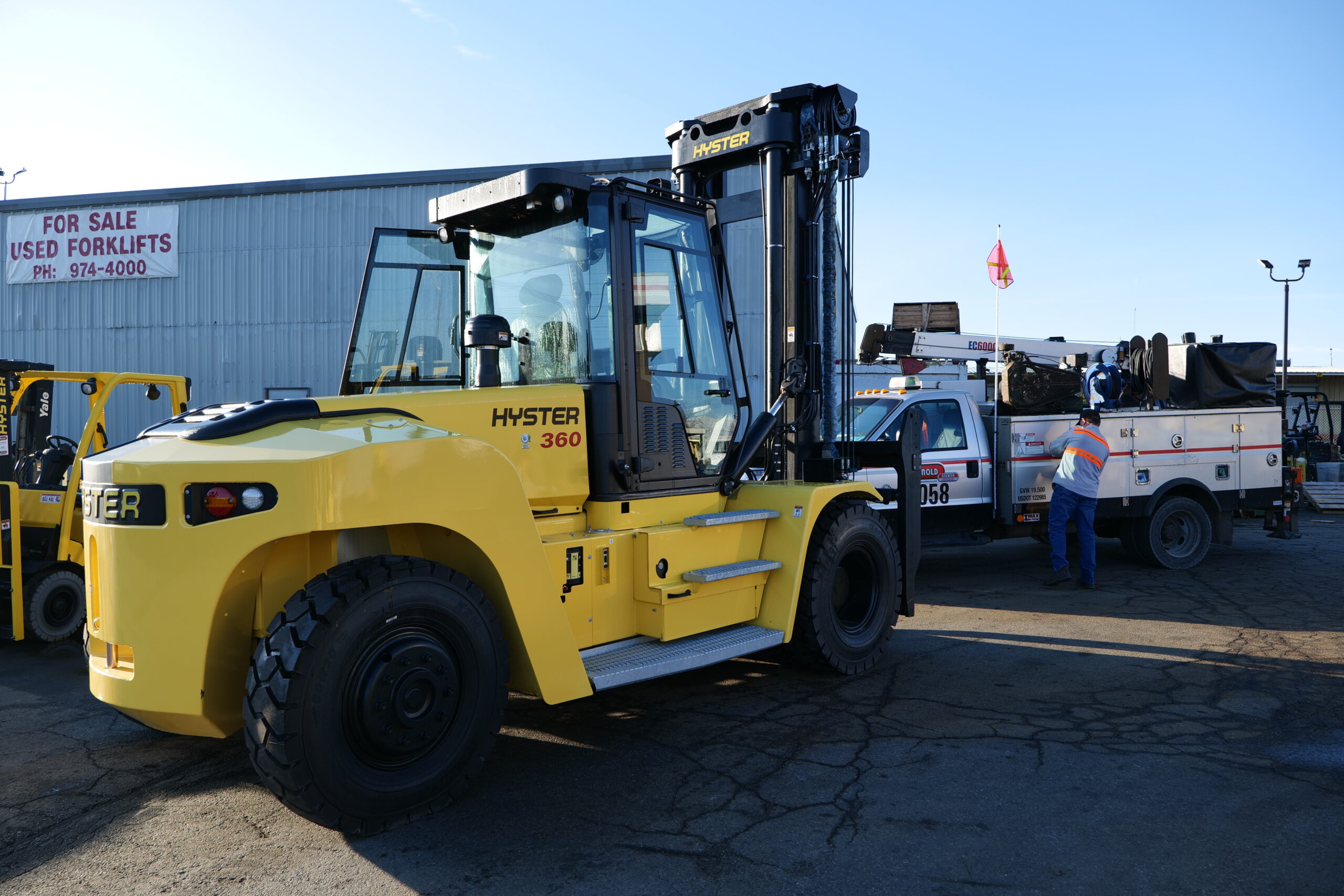 Forklift Maintenance
Maintenance is something all lift trucks need. Our technicians take care of yours so you can keep your attention where it's best spent. We'll create a scheduled maintenance plan based around your equipment requirements, operating schedule and typical use levels to ensure your forklifts are always in the best condition.
Professional lift truck maintenance from our mobile team offers significant benefits for your fleet — and your budget. These include:
Longer equipment life: Forklifts are a lot like automobiles — if you take care of them and perform the services they need, they will last much longer. They'll also hold their value better, which will pay off when you're ready to trade in an old model on an upgrade.
Simplified forklift care: When you trust our technicians for your regularly scheduled forklift maintenance services, we take the whole project off your plate. You can get forklift parts and approve repairs at your convenience and we'll handle the scheduling.
Lower operating costs: Just like with our repair services, you'll get the peace of mind of a forklift inspection every time we come by. We'll look for any damage, wear or warning signs to help you avoid any unexpected downtime.
Improved warehouse safety: With professional maintenance, trained technicians are looking over every inch of your lift truck to identify and correct potential safety issues. Our inspections ensure you can count on your equipment to operate as designed.
We'll also create professional forklift maintenance records to accompany your material handling equipment. Records are valuable during forklift re-sale and essential if OSHA (the Occupational Safety and Health Administration) stops in for an inspection.
Our Silver Service® Guarantee
At Arnold Machinery Company Material Handling, we are an established forklift service company with over 90 years of experience. We partner with businesses of all sizes across multiple industries to deliver superior equipment sales, care and warehouse support. Everything we offer comes with the backing of our Silver Service®.
Silver Service® is the safety net that guarantees you, our customer, are satisfied. It means that our representatives will always place your satisfaction above all else. We will turn every stone and exhaust every ethical option to ensure you always get what you need at the best value.
Reasons to Choose Arnold Machinery Company for Your Service Needs
Over 163 highly trained, mobilized technicians across 14 forklift service center locations providing 24/7 On-site Repairs, 365 days a year
Hyster®, Yale®, Combi, Bendi and Navigator warranty repairs
Hyster and Yale Certified Master/Elite Technicians for Yale nd Hyster forklift repairs
We service equipment that we sell, as well as what we don't
We provide Contact Maintenance programs on all products we sell. This maximizes your uptime and limits unforeseen costs by performing regularly scheduled maintenance, warranty repairs, routine repairs and emergency breakdown service.
Arnold Machinery offers a comprehensive P.M. service program on all brands of forklifts that enables our customers to take advantage of a thorough maintenance program that reduces maintenance costs and helps to eliminate costly breakdowns, downtime, repair bills and lost productivity.
14 locations across the intermountain west:
Schedule Service and Repair Without Leaving Your Property
Gain the advantage of partnering with the region's top forklift repair company. We'll make sure your fleet lasts and performs its best with professional forklift truck repair services over a massive territory.
To schedule local forklift services, fill out our request service form or give your nearest branch a call.