AutoCAD
Optimize Your Warehouse's Layout
Are you interested in optimizing your warehouse's layout? At Arnold Machinery Company, we'll combine our AutoCAD warehouse drawing plans with your business goals to create the best possible layout for your facility.
What Is Warehouse AutoCAD?
AutoCAD is a computer-aided design (CAD) software that can be used to construct precise 2D and 3D drawings of any space or object. When using AutoCAD to draw up warehousing plans, a programmer will use a facility's unique specs to create a detailed visual of its floor plan. Architects, engineers, construction experts and other professionals can use the digital simulation to visualize the current layout as well as potential optimization solutions.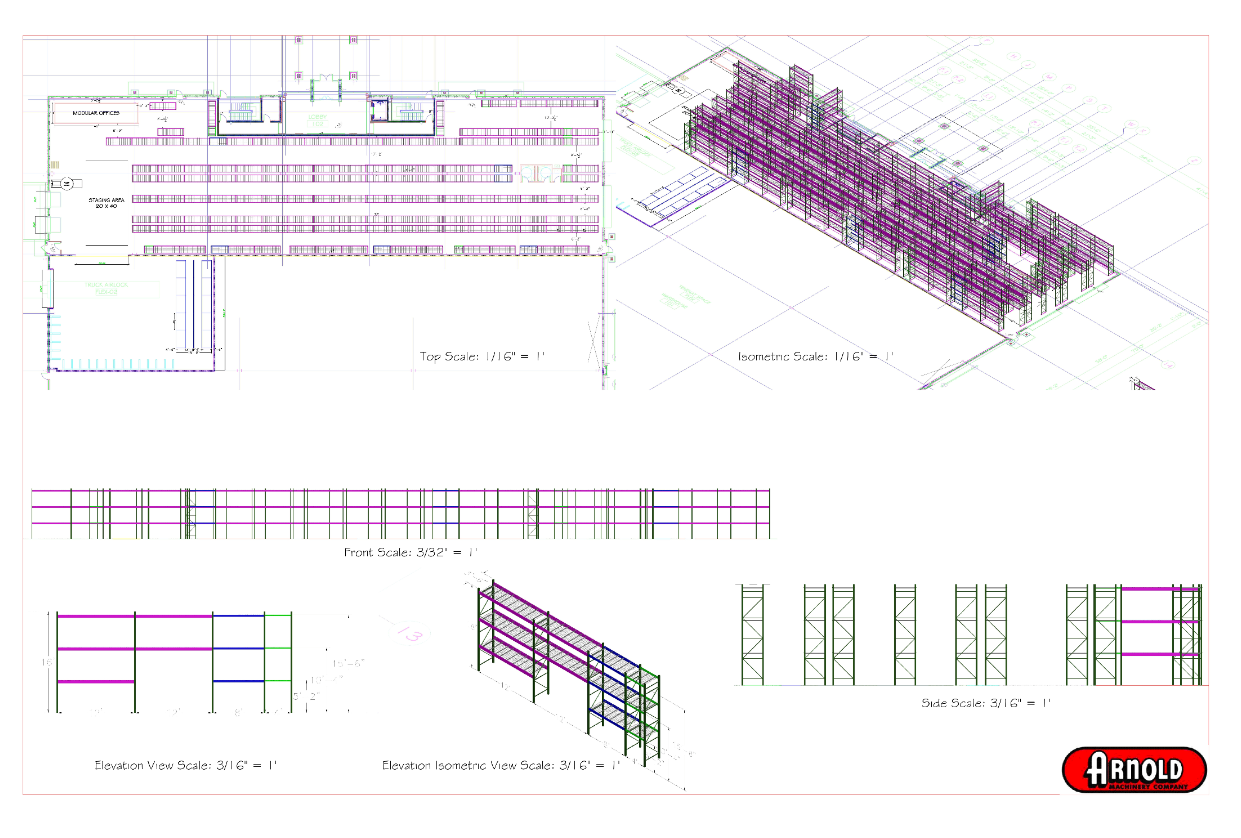 The Benefits of Using an AutoCAD Warehouse Drawing Plan
The possibilities are endless when it comes to AutoCAD warehouse drawings. Here are some of the most common uses and advantages of creating a warehouse drawing plan:
Review Existing Layout
Are you wondering whether you're making the most of your current warehouse space? If you're concerned about your present efficiency, an AutoCAD warehouse visualization will help you find what you're doing right and what you can improve. You'll be able to see your current pick paths and possibly reroute them or determine new slotting strategies to maximize flow and productivity.
Create More Space
If your facility is running low on room, an AutoCAD drawing will clarify where and how you can optimize your warehouse. Warehouse CAD files show you the current layout of your space and let you draft potential solutions for maximizing your storage capacity. These before and after visuals allow you to compare material handling designs, make decisions about storage and save space in your facility.
Optimize Expansion
Expanding or moving to a new facility is an immense endeavor. Warehouse AutoCAD drawings simplify the process. Use your new facility's specs to create an optimized layout before you even move in, letting you start your new operation at maximum efficiency. Warehouse drawing plans prepare you to make the most of any space in no time.
Obtain Permits
In some cases, you may need detailed information about your facility to meet city permitting requirements or obtain a permit for racking. Warehouse AutoCAD drawings give you precise, accurate images of your equipment layout so you can ensure your space is up to code and proceed with your business.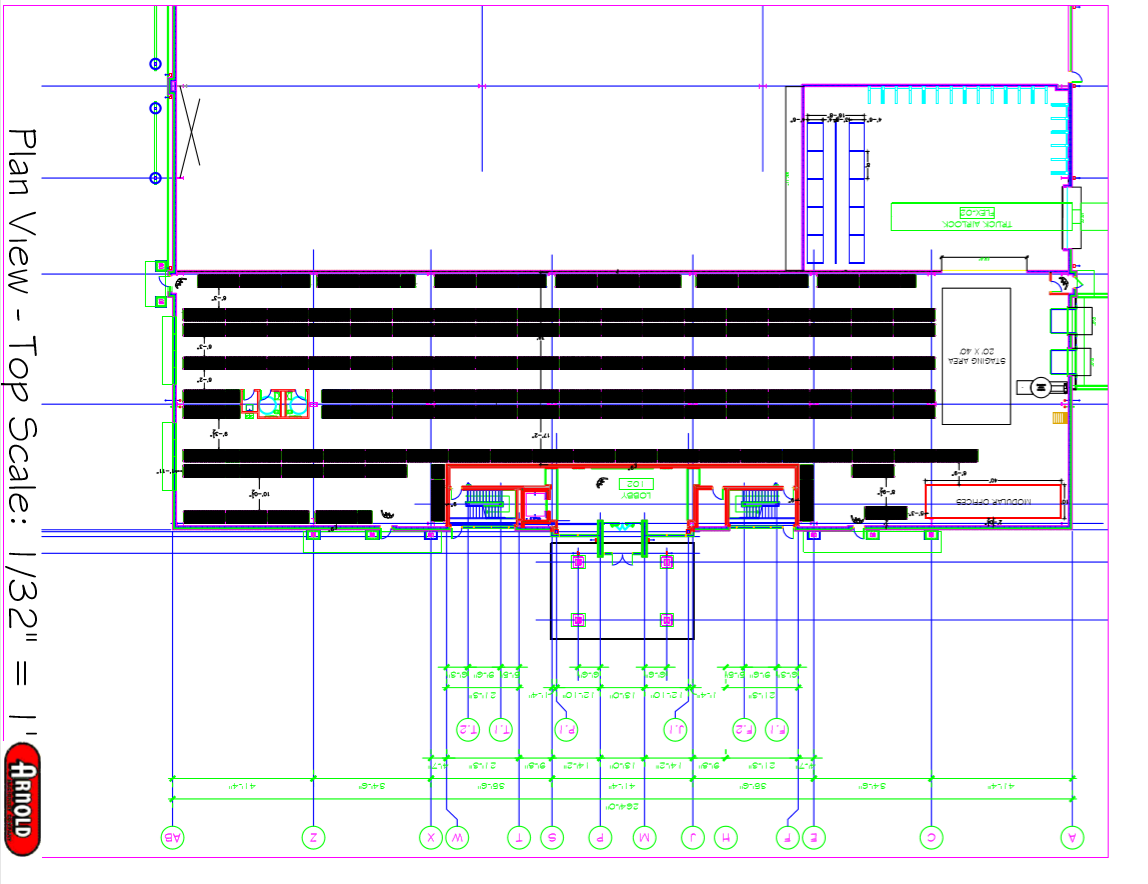 How Does AutoCAD Work?
Arnold Machinery Company's free warehouse AutoCAD services provide you with the helpful information you need to enhance your space. Our process follows four simple steps from start to finish.
Create a drawing of your current space: Using your building's unique specs, our engineers will construct a 2D or 3D image of your current layout. We'll be able to see the benefits and shortcomings of the existing warehouse flow.
Discuss potential solutions: Our team will take your business goals into account and develop potential material storage solutions to maximize efficiency. We'll work with you to determine the best possible options for your warehouse layout design autocad based on your needs.
Create new warehouse floor plan drawing plans: We'll use our 2D or 3D renderings of possible layouts to help you decide which one best suits your company's needs. Comparing warehouse CAD files allows you to weigh the benefits of each potential design.
Proceed to the ordering process: Once you've determined the best possible layout for your warehouse, Arnold Machinery Company can supply the material handling equipment and tools you'll need to make your optimized design a reality. Our best-in-class associates will assist you throughout the rest of the ordering process.
AutoCAD Services From Arnold Machinery Company
Warehouse AutoCAD drawings allow industry experts to make the best decisions to maximize efficiency and optimize warehouse operations. At Arnold Machinery Company, we offer a free AutoCAD warehouse consultation to help you make the most of any space. We have more than a dozen branches spread across the intermountain west, including in Salt Lake City, Denver, Casper, and Las Vegas. Contact your nearest branch or request information to learn more about our AutoCAD services today!