Silver Nugget Fall 2020
---
Silver Nugget


Section 179 Tax Savings
Do you know about Section 179 End-of-Year Savings Opportunities?
Significant tax savings are available for new or used equipment financed or purchased and put into service between January 1, 2020 and December 31, 2020.
New and used lift trucks qualify for Section 179 tax-savings.
Section 179 at a Glance for 2020
(Please see your tax preparer for your specific situation)
2020 Deduction Limit = $1,040,000.00
This deduction is good on new and used equipment. To take the deduction for tax year 2020, the equipment must be financed or purchased and put into service between January 1, 2020 and December 31, 2020.
2020 Spending Cap on Equipment Purchased/Leases = $2,590,000.00
This is the maximum amount that can be spent on equipment before the Section 179 deduction available to your company begins to be reduced on a dollar for dollar basis.
2020 Bonus Depreciation = 100%
Bonus Depreciation is generally taken after the Section 179 Spending Cap is reached. 2020 Bonus Depreciation is currently available for both new and used equipment.
For more details on limits and qualifying equipment, as well as Section 179 qualified financing, please contact us and we will be happy to help you.
Or visit www.section179.org for details
Spring Cleaning
With the warm weather upon us, it is the perfect time to clean, inspect and take inventory before the cold weather hits. Open the hood, check to see if there is any dust or debris that could be clogging the radiator.
While you're there, take stock of any oily residue. Check that any required maintenance hasn't been neglected over the past 3 months. One required maintenance item that is easily overlooked: a lot of smaller trucks are equipped with timing belts that require routine replacement. Some are required to be replaced in as little as 2,000 hours, some will go as far as 3,500 hours. Should a timing belt slip, the camshaft will not be in time, the cheap result is that the engine simply won't start until the belt is replaced. The expensive result is that the timing slips in such as way that internal parts (valves and pistons) make contact with one another, requiring a bare minimum of a premature valve job. A little time now will pay dividends when the cold weather rolls in.
When should you consider a Vertical Lift in your Operation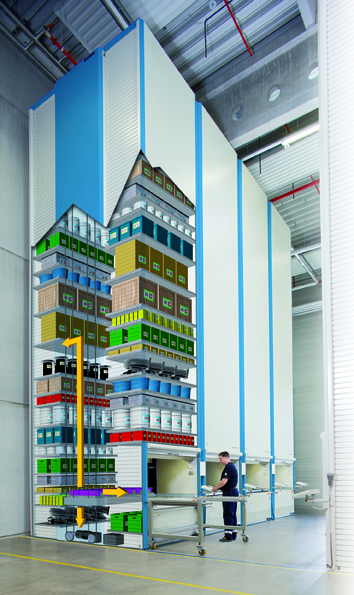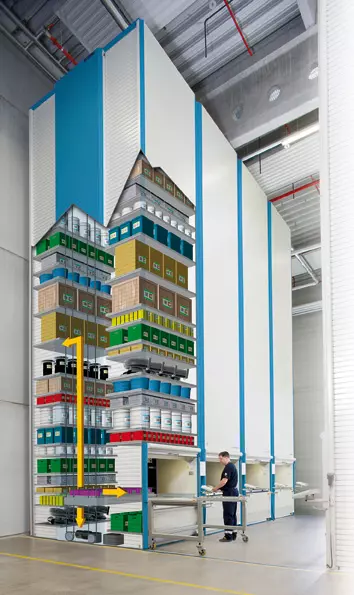 The following are some key points to look at as you review your space and operation.
Recover vast amounts of floor space. Up to 80%, by eliminating rows of conventional static shelving, pallet racks and modular drawer cabinets. Vertical lifts have a very small footprint, yet they can utilize the full height of any facility up to 80′ and deliver the stored items automatically when requested. Customers utilize their previously unused overhead space, to store more in less space.
Increase employee productivity by eliminating the need for workers to walk long distances and climb ladders in search of items in storage. All stock is in the same place at all times. Customers can do more in less time with fewer people.
Improve inventory control by utilizing onboard, high-performance inventory management systems that easily interface with your existing platform. Customers improve the accuracy of their inventory to over 99%.
Increase security or limit access  to stored inventory using electronic or mechanical systems that provide an audit trail of activity. Customers know who signed out items, and when, reducing errors and theft.
Improve workplace ergonomics by delivering all stored inventory to a safe, waist-high level in accordance with OSHA requirements. No more bending down to pick up heavy items, or reaching up to access bulky products stored above, or climbing ladders. All of the product is delivered to the same ergonomically-correct location every time.
---
---